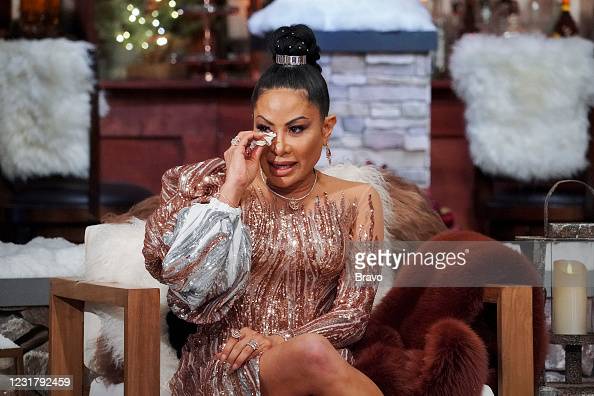 Happy New Year, Jen Shah? Probably not. The "Real Housewives of Salt Lake City" star was finally sentenced today in Manhattan after entering a guilty plea during the summer in her federal wire fraud case. While the reality star may not be celebrating, her sentencing seems to have reached the status of a national holiday across social media.
Shah appeared in U.S. District Court for the Southern District of New York on Friday for sentencing, where she received a 6.5-year sentence in federal prison.
Shah's Federal Case Stole the Show
No stranger to trending, Shah's storyline has been front and center on the hit Bravo reality tv show. In March 2021, Shah and her assistant, Stuart Smith, were arrested in Utah during production for season two of their version of "The Real Housewives". Both were charged and later indicted for conspiracy to commit wire fraud in connection with a telemarketing scam and conspiracy to commit money laundering.
Although her actual arrest wasn't caught on camera, a scene aired during season two showing Shah receiveing a phone call warning her that the feds were on their way to arrest her. The call was from her husband Sharrieff Shah.
Shah's legal troubles have continued to play out in the show's current season and are a constant topic of discussion among cast members. Shah's self-proclaimed "ride or die" friend and co-star, Heather Gay, has continued to voice her support of Shah.
Shah's Plea
Both Shah and Smith originally denied any wrongdoing and plead not guilty. However, Smith changed his plea to guilty in November 2021. Shah has maintained her innocence on all charges until changing her plea to guilty for one count of conspiracy to commit wire fraud in connection to telemarketing.
If Shah's case had gone to trial, U.S. attorneys prosecuting her would have had to establish five elements to prove Shah committed conspiracy to commit wire fraud:
Shah had an agreement with her co-conspirators
The agreement involved defrauding victims financially through a telemarketing scheme
At least one of the co-conspirators committed an overt act
The overt act was committed with the purpose of defrauding the victims
Shah intentionally entered into the telemarketing scheme
During the plea hearing in July, Shah acknowledged her involvement in certain aspects of the telemarketing fraud to U.S. District Court Judge Sidney H. Stein.
Shah's Prison Sentence
While Shah received a 6.5-year sentence, the maximum penalties for a conviction on a federal conspiracy to commit wire fraud charge include 30 years in prison and supervised release for five years.
Prosecutors argued that because Shah played a crucial role in the telemarketing scheme and victimized many innocent people, she should receive a 10-year prison sentence. But court documents filed by Shah's legal counsel requested a sentence of three years in prison. Her attorneys argued that Shah's role was limited and merely involved providing "leads" to the co-defendants. You can hear more details about the arguments leading up to Shah's sentencing on "The Bravo Docket" podcast.
Other Penalties
Shah was also sentenced to additional penalties. For conspiracy to commit wire fraud, the maximum fine is the greatest of:
$250,000 dollars,
Twice the monetary gain from the offense, or
Twice the monetary loss to anyone that resulted from the offense
The plea deal orders Shah to forfeit $6.5 million dollars and pay up to $9.5 million dollars in restitution. Why? Forfeiture penalties are imposed to deprive criminals of the money or other financial proceeds they gain as a result of committing the crime. Criminals can also be ordered to make restitution payments to their victims in an effort to financially restore the victims.
Will Shah Return to the Housewives?
When asked about Shah's future on the show during an Us Weekly interview, executive producer Andy Cohen seemed to indicate the chances of seeing Shah next season are unlikely. Shah did not attend the season three reunion, but Cohen confirmed that he will sit down with Shah for a one-on-one interview that will air after the reunion.
So until the #freeJenShah movement gains momentum and the "bravolebrity" is back on TV, there's always the Prince Harry and Meghan Markle Netflix show and infinite versions of other "Real Housewives" shows.
Related Resources:
You Don't Have To Solve This on Your Own – Get a Lawyer's Help
Meeting with a lawyer can help you understand your options and how to best protect your rights. Visit our attorney directory to find a lawyer near you who can help.